SERVICES WE OFFER
For more information, feel free to contact us today.
Chuck Lacey Jr. gives an overview and explanation of how Lacey Construction applied their design-build process to the Omaha Steel Construction Project.
Chuck and Tobin talk about going into the new year and focusing on the best most efficient and cost-effective way to get a building built – using their own design-build consultative process that utilizes their expertise and collaboration with a trusted architect.
Design/Builder
Design/Build is a method of project delivery in which we and our design-build team, work under a single contract with the project owner to provide design and construction services. With this delivery method we are able to provide our expertise from your projects initial concept.  We work with our architect partners to provide exactly what our clients are looking for in a project.  We then provide a guaranteed competitive budget that matches our clients building needs and the budgetary needs. We work hard from our first meeting to ensure our clients and their needs are met with each project. Allowing an owner to focus on their business not the building process.
General Contractor
As a General Contractor we will work with a client's design team. We often earn projects in a very competitive marketplace by being the lowest responsible bidder.  We do this by utilizing our network of trade professionals often working with new and emerging sub-contractors.  We then work hard to complete each project on time and on budget.  In this arrangement we provide our services in a lump sum contract.  Typically, we then work with the owner through the design team during the building process.
Construction Manager
As Construction Manager we are a construction professional working directly for our client.  We work on behalf of our clients, providing our knowledge to help bring our clients building need from idea to completion.  We work with our client's design team to provide initial cost estimating.  We provide our clients competitive sub contract pricing to ensure their investment dollars are well spent.  We provide project leadership throughout the entire building process.  We provide job cost reporting throughout the project to ensure the owner is getting exactly what was expected.  In this arrangement an owner would typically contract with each sub-contractor separately.
The Lacey Process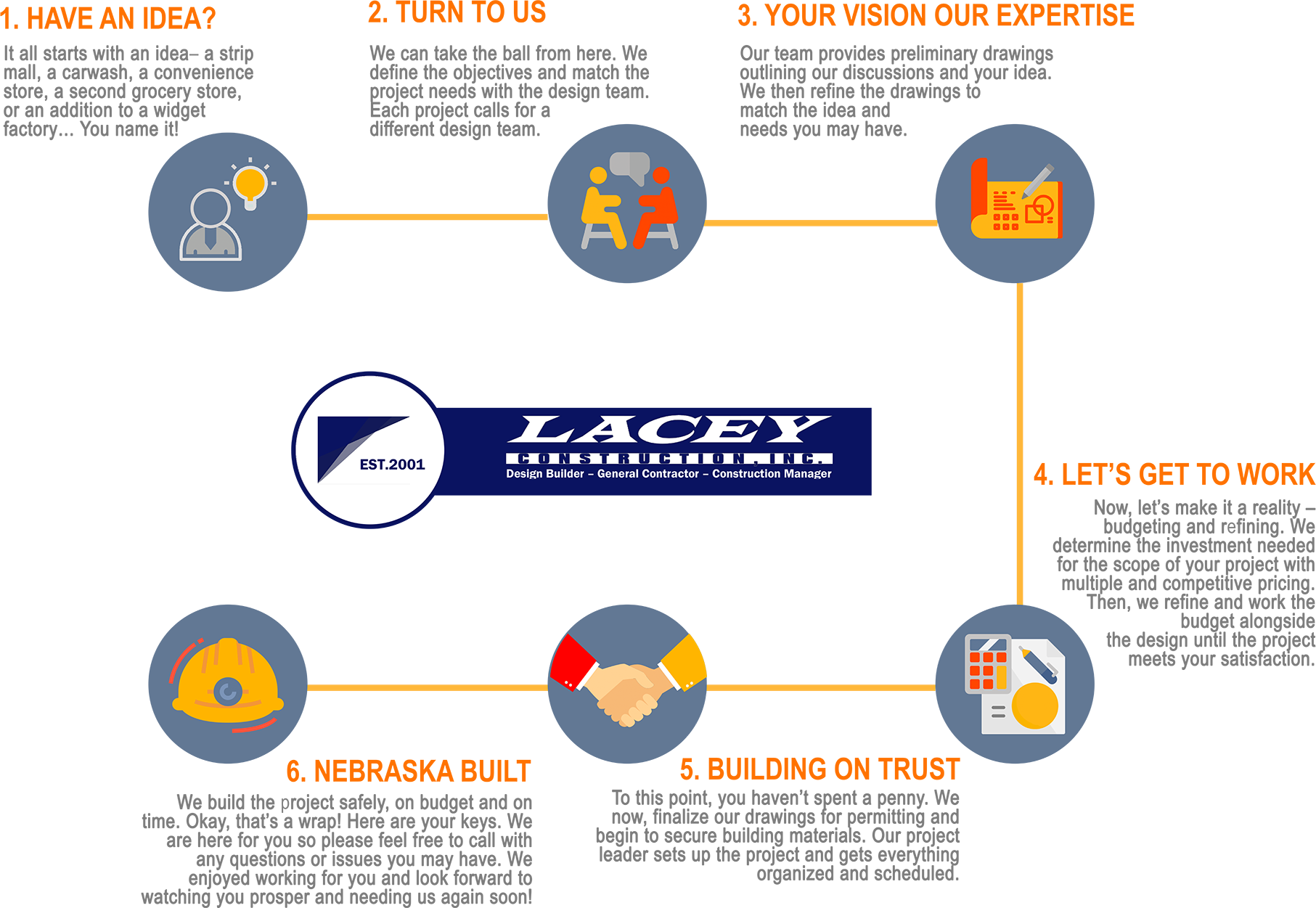 Do you need professionals for your next project?